Home
A Brief Tour of Our Church
Church Services
Upcoming Events
Aug 30, 2015, Message
Aug 2, 2015 Sermon
Apr 2, 2015, Maundy Thurs Sermon
Mar 29, 2015, Sermon
Mar 22, 2015, Sermon
Mar 15, 2015, Sermon
Mar 8, 2015, Sermon
Mar 1, 2015, Sermon
Feb 22, 2015, Sermon
Feb 18, 2015, Ash Wed Sermon
Feb 15, 2015, Sermon
Feb 8, 2015, Sermon
Feb 1, 2015, Sermon
Jan 25, 2015, Sermon
Jan 18, 2015, Sermon
Jan 11, 2015, Sermon
Jan 4, 2015, Sermon
Dec 28, 2014, Sermon
Dec 21, 2014, Sermon
Dec 14, 2014, Sermon
Dec 7, 2014, Sermon
Nov 23, 2014, Sermon
Nov 16, 2014, Sermon
Nov 9, 2014, Sermon
Nov 2, 2014, Sermon
Oct 26, 2014, Sermon
Oct 19, 2014, Sermon
Oct 12, 2014, Sermon
Oct 5, 2014, Sermon
Sept 28, 2014, Sermon
Sept 21, 2014, Sermon
Sept 14, 2014, Sermon
Sept 7, 2014, Sermon
Aug 31, 2014, Sermon
Aug 24, 2014, Sermon
Aug 17, 2014 Sermon
Aug 10, 2014, Sermon
Aug 3, 2014, Sermon
July 27, 2014, Sermon
July 20, 2014, Sermon
Download Sermons

1395 Scenic Trail
Warrior, AL 35180
205-647-7321
Pastor: The Reverend John Briscoe
Sunday School: 9:30 A.M.

Worship Service: 10:30 A.M.
Directions To Our Church:
From Exit 284 on I-65 North, cross straight over Highway 160 onto White Oak Trail (the road between the Shell Station and Logan's). Go about 2 miles north and turn right onto Smoke Rise Trail. Go to the third corner and turn left onto Scenic Trail. Continue north about a mile and you will come to a stop sign with a fire station on the right and a community pool on the left. Continue straight on Scenic Trail.
Smoke Rise United Methodist Church will be on the left.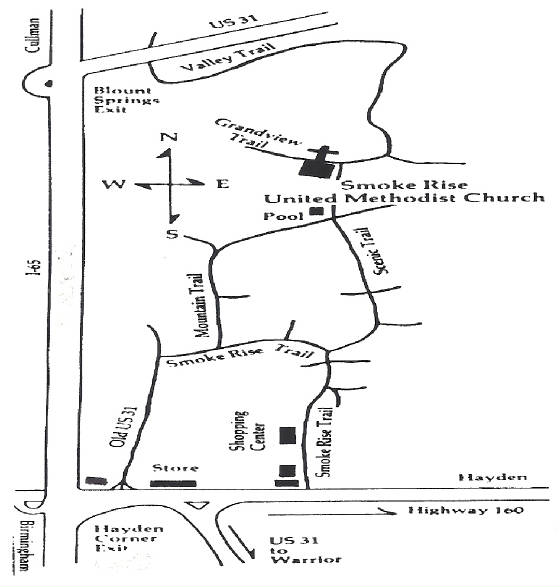 Click here for map to church and for driving directions.
--- OR ---
Click here to download a MS Word document with the map to the Church.

SRUMC - Smoke Rise United Methodist Church